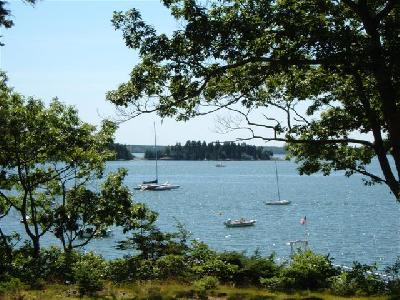 "Jen, your blog just called. It was looking for you and heard that you came over Fridays, but I explained that was just in the evenings for Bible study. Anyways, I might have mentioned some of the camping trips, beach visits, game nights, baptisms, and upcoming trips to Vermont and NYC. For some reason that seemed to make it a little upset. Just thought I'd let you know."
So I was informed in a recent e-mail by a well-meaning friend: the Blog is mad at me. It feels ignored, excluded, abandoned, shunned. I understand. Because I have ignored, excluded, abandoned, and – in practice, though not in spirit – shunned the Blog. Strange, too, that I should do so right when, for a change, I have some blog-worthy memories to record and share with the general public, along with praises, prayer requests, and maybe even pics. It's been a mad summer, and I'm tired. But I'm loving it, and I don't want it to end. The weather can change and business can slow, but I'd just as soon the days stay long and friends not go back to or leave for school, not get serious about work, not settle into autumnal routines, and not get generally responsible about time. Because time is what we seem to have an abundance of; or maybe it's something we've created. I, for one, have managed to train my body to survive without sleep. I've seen more sunrises this summer than I have in the rest of my life put together. Some I've seen alone, some with others by my side. The author of the above e-mail, who may wish to remain anonymous, has accused me on more than one occasion of going through an early mid-life crisis. I can't wholly deny it, though in assenting I suppose I open myself up to the idea that I really might be dead by 48. At this rate, wearing out by then seems just about right…
It started with a camping trip, I think. Here's a photo of part of our group (coutesy of someone who shared it with our church; it might have been the Matzkos, but i'm not sure who to credit.)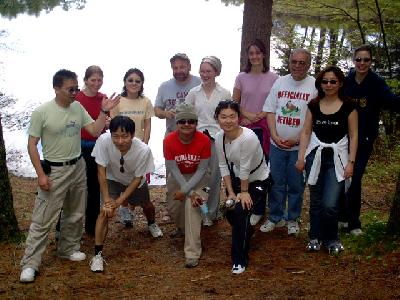 The IBCB has an annual Memorial Weekend Camping Trip, an event designed as an outreach event. This year was my first, and we had a great turn-out in general. We met lots of new friends from Boston's international academic community. Several countries were represented; we bonded over fire and a few rousing games of Mafia. I was not exactly in top physical form, and the weather threatened to drown us out, but I managed to enjoy myself immensely despite those facts. Those who survived the first deluge were rewarded with clearing midnight skies, perfect for the first midnight jaunt of the season. 2am found most us down by the lake, telling spooky stories and trying to figure out how to unchain a canoe from a nearby tree. We didn't succeed on that point, so we called it an early night. Some of us visited Plymouth on the way back to Boston the next day; we decided Plymouth Rock was bigger when we were smaller…profound, but useful knowledge.
Next came Amy's "Birthday on the Beach" party. Here's a photo Amy sent me. I took it, which explains the utterly poor quality!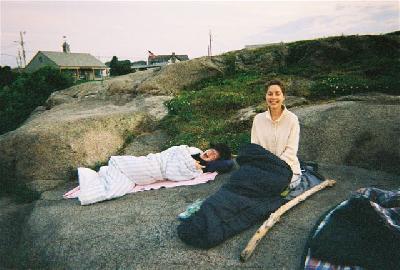 Allie, Amy and I decided to head up to York Beach, Maine after evening Bible study on the 24th of June. We didn't get on the road until about 12:30am, and wouldn't you know, we hit a traffic jam. Only in Boston. We made it up to the coast by about 2am and discovered that the tide comes in higher than I remembered, and that sleeping on the sand might not be as pleasant an experience as we'd anticipated. We opted instead to head up to Nubble Lighthouse and camp out on some friendly boulders overlooking the surf. We set up camp, and then Amy had to use the facilities. Trouble was, there were no facilities. Anywhere. And she wasn't willing to use nature's facility "as long as [she] knew [she] was going to be hanging around it the next day. So we drove back into town. On the way in, we met a suspicious road block that hadn't been there only an hour earlier. Mind you it was almost 3am. We decided it was a trap and that we were either going to be slaughtered by the Traffic Cone Killer himself, or else ruin a teenage prank… We ruined a teenage prank. I pulled the get-away car up to the line of traffic cones; Amy catapaulted out of the car and (while gracefully losing a flip-flip) hurled two of the cones out of the way so we could pass; Allie sat at the ready with a giant piece of driftwood we found, in case the teenagers hiding behind a nearby stone wall got ugly on us. All they did, though, was send out their ringleader, who ran down the road after us yelling, "That is so uncool! That is so uncool!" to demonstrate his limited vocabulary. Anyway, we made it through to town and looked for a gas station. It was closed. We finally found a hospital and dropped Amy by the curiously vacant emergency room entrance; she emerged 5 minutes later, unscathed and much relieved. We made it back to our perch on the rocks, star-gazed and ate pistachios, and managed a few winks of sleep before sunrise. The fishermen who arrived around 5am didn't seem to be bothered by the three homeless kids camping out on the cliffs; they just stepped over us, nodded and grunted good morning, and cast their lines. We didn't see the "parking overnight prohibited" sign until daylight, which was … quite convenient ;o)
We followed up our mini birthday celebration for Amy will a full-church and friend event at Amy's apartment the next Sunday afternoon. It was hot, but we managed to have a whole lot o' fun, although Steve beat us all at Uno. Again. Despite our blatant alliances against him and the general "prevent Steve from winning at any cost!" mentality. Grrr.
Less than a week later we ended up on another overnight beach trip, this time to Hampton and Salisbury beaches and in honor of Austin's birthday. Click here to view some shots Melita got during the trip (Scroll down to June 30th). This time the Matzkos, Steve, and Dave, my pastor's son, joined us, but Amy played responsible and stayed home. We had been at the Matzko's apartment that evening, as they'd hosted a special church meeting in which a singing ensemble from Pillsbury College gave a special concert for us. After most people cleared out, we were left with a group itching to do something. "I want to be somewhere I'm not supposed to be!" was Melita's idea. But we couldn't think of anything only mildly illegal to do that would actually be worth the trouble, and we're not into illegal substance abuse (or even legal substance abuse); we contemplated a midnight run to NYC, but Dave and Melita had to work early that next morning. Dave, Steve and I tried to find a way to sneak into the condo associations pool (it was closed for the evening….ooooooo, daring, I know; although we did narrowly escaped certain death when we ran into three killer skunks slinking around in the mulch by the gate…)
We were about ready to settle for a rousing game of Cranium when someone sggested we drive up to the beach. Sure! Why not? It was only around 10:00pm; we had plenty of time, right? Well, we didnt get to the beach until around 2am…again. At the first beach, we found the air cold, but the water warm…and the sand throw-able. Note to self: never throw sand at young strapping males who can throw harder and aim better than you can, because they will return the favor. Dave Edmondson about blinded me with an amazingly fast and furious ball of very grainy sand that I managed to catch square in the face with both eyes wide open (I had to turn around JUST then, right?) I kidd you not, I was picking painfully globular grains of sand out of my eyes for at least a week after that one. Although he didn't mean it (I'm sure), this put a damper on the rest of the trip for me; I let Austin drive as I could no longer see or even really keep my eyes open, and we headed further up to Hampton Beach in search of less touristy atmosphere. We found it. We didn't make it out of there until after 4am. And so it was that the church deacon, secretary, treasurer, and other upstanding members of the IBCB dropped their underaged pastor's son off in front of his house, cold, wet, and shivering, shaking from exhaustion, and wearing someone else's clothes, at 5:15 Friday morning. He had to work at 6am.
So ended June, and so ends this portion of the Dishrag Summer series. Keep your eyes peeled (and sand-free) for Part II, and a synopsis(sort of) of what you missed in July ;o)